Spring forward, fall back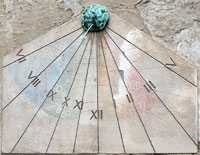 It's that time of year when we gain an extra hour here in the UK. On Sunday 27th October 2013, British Summer Time (BST) ends and Coordinated Universal Time (UTC) – perhaps more commonly known in this country as Greenwich Mean Time (GMT) begins.
But why do we change the clocks forward and back each year? Today we'll take a trip through time and look at the history of daylight savings.